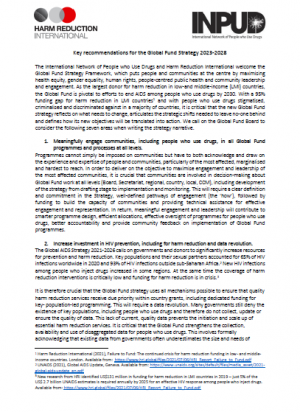 As the largest donor for harm reduction in low-and middle-income (LMI) countries, the Global Fund is pivotal to efforts to end AIDS among people who use drugs by 2030.
With a 95% funding gap for harm reduction in LMI countries and with people who use drugs stigmatised, criminalised and discriminated against in a majority of countries, it is critical that the new Global Fund strategy reflects on what needs to change, articulates the strategic shifts needed to leave no-one behind and defines how its new objectives will be translated into action.

We call on the Global Fund Board to consider the seven key areas when writing the strategy narrative:


1. Meaningfully engage communities, including people who use drugs, in all Global Fund programmes and processes at all levels.
2. Increase investment in HIV prevention, including for harm reduction and data revolution.
3. Strengthen and fund community and key population-led service delivery.
4. Establish a dedicated funding stream for key populations.
5. Mainstream communities, human rights and gender and provide funding for advocacy.
6. Reassess the sustainability, transition and co-financing policy.
7. Keep focus on the three diseases.